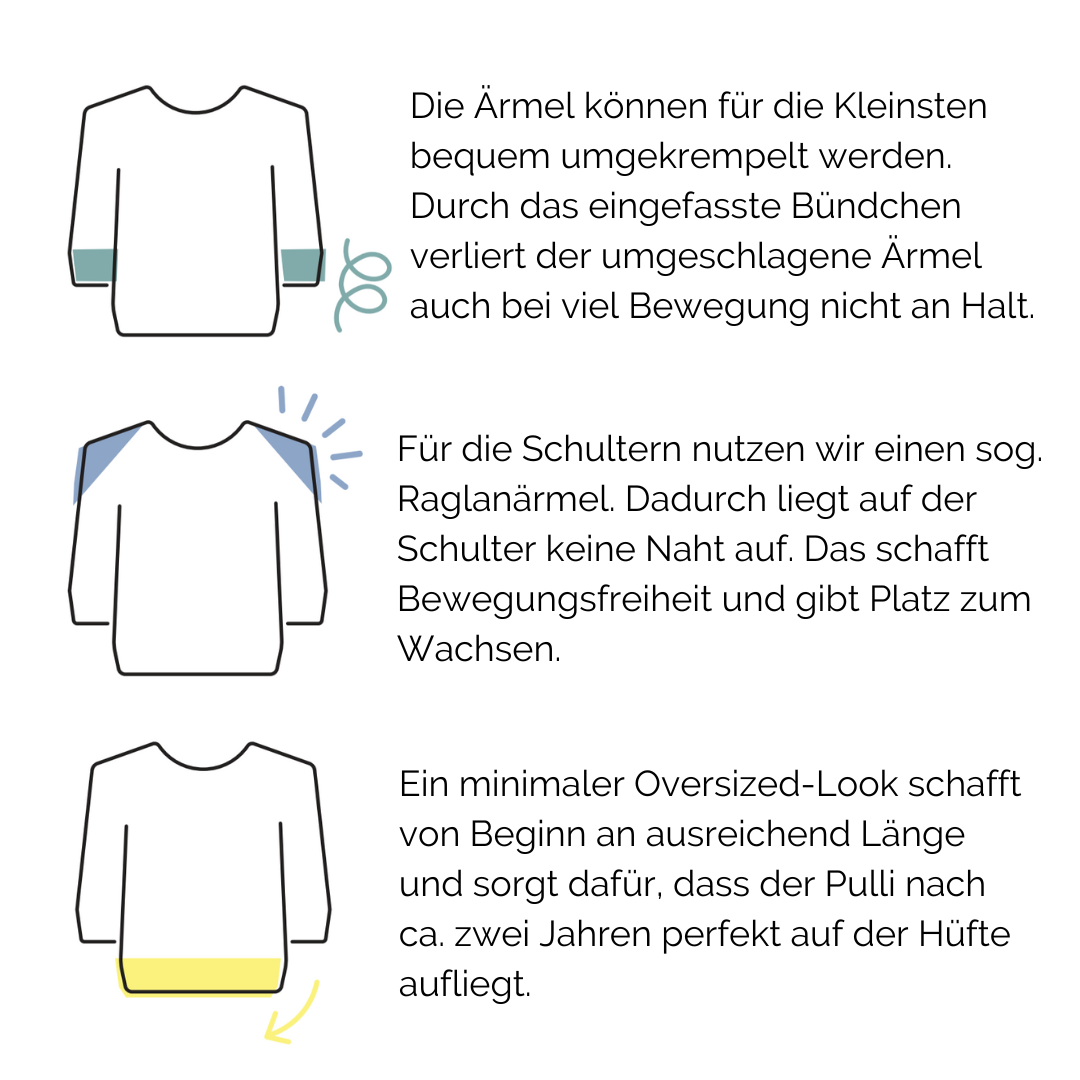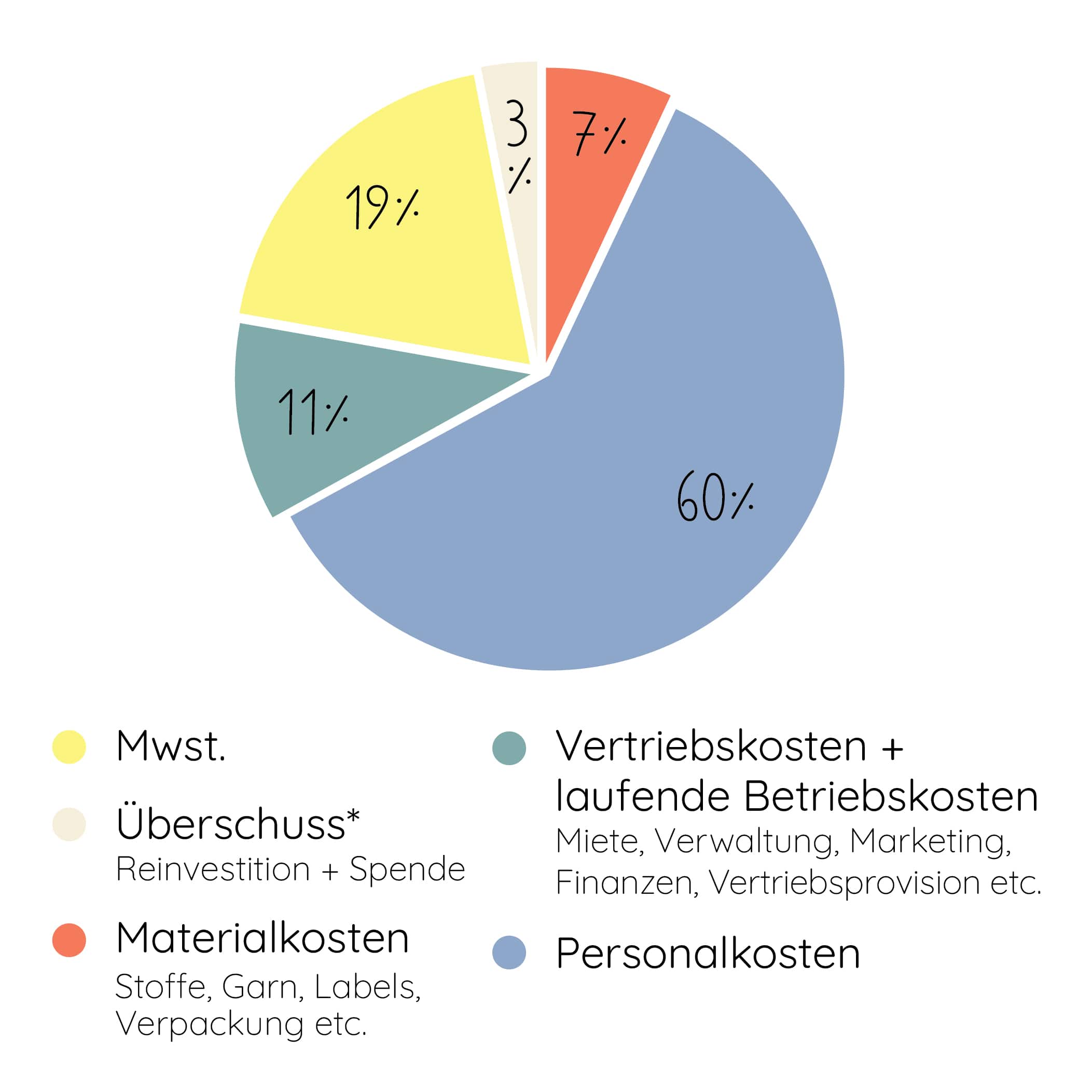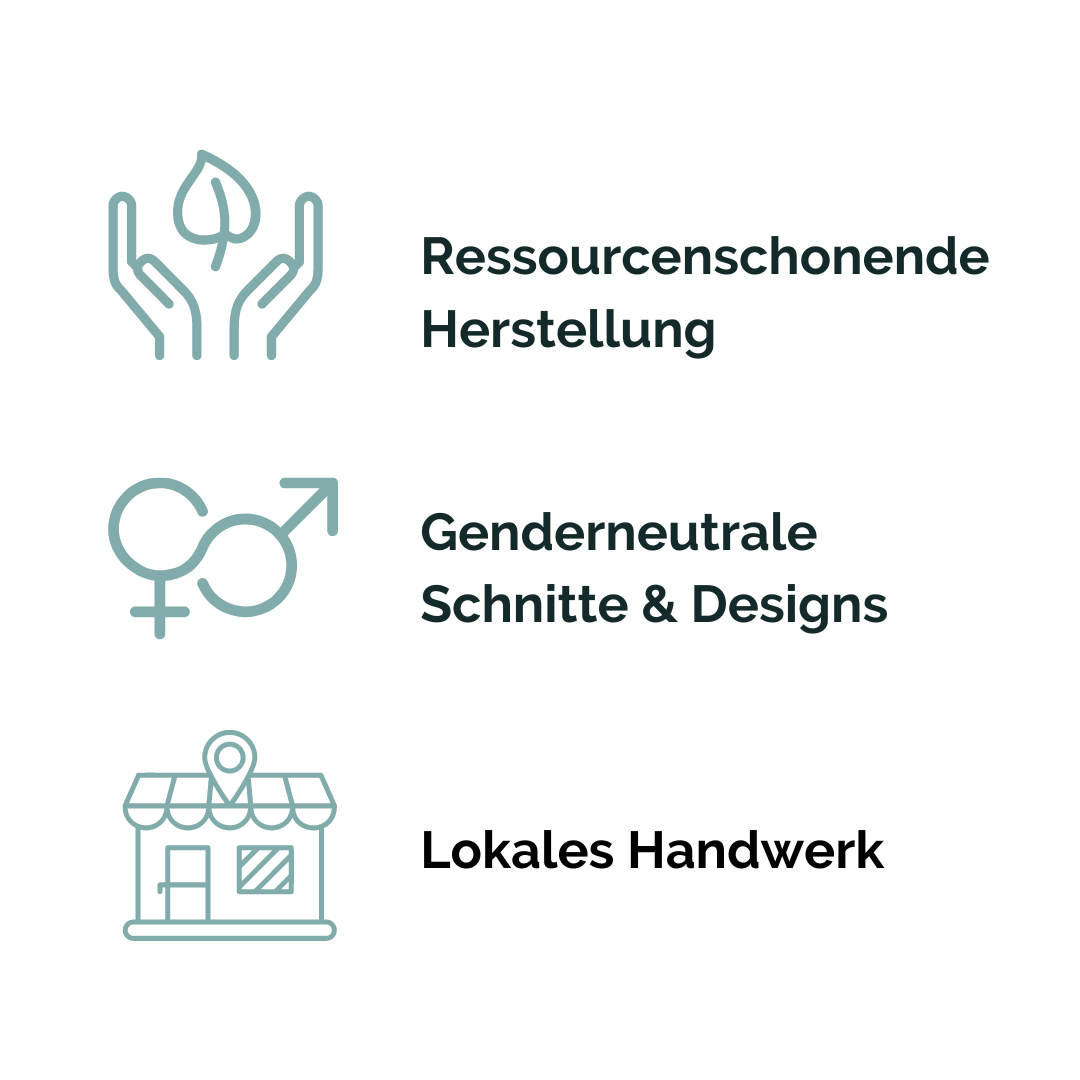 inkl. MwSt. zzgl. Versandkosten
Dieses Produkt wird in Deutschland gefertigt
Wir haben solidarische Preise! Mehr dazu im Hauptmenü.
Description

Material & Pflege

Versand
Everyday companion
Our clothing is exclusively made on site, in a studio in the heart of Berlin.
The everyday companion is a octopus sweater made of thin to medium-thick sweat fabric. It's comfortable to wear all year . Whether inside on cold winter days, under a jacket in autumn or as a pull-over sweater on cooler summer days. Its cut is designed so that children can wear it up to four sizes. In the product photos, we explain how our octopus grows with you.
All of our sweaters are made from second-hand, leftover and surplus goods and are produced by hand in Germany. No new fabrics are made for the Oktopulli, only what already exists in this world is used. We pay attention when purchasing the fabrics, of course, on quality. All the fabrics we use are made from at least 95% cotton and are OEKO-TEX 100 certified. We only use 100% organic cotton for the inner lining of the sleeves. Since it is much heavier, haberdashery secondhand or as leftover goodsbuy our cuffs if needed. Our seams are made from recycled polyester yarn.
Workshop: Oktopulli/Kreuzberg
Sweat fabric (body): Rescued sweat, unnapped - 96% cotton, 4% elastane (OEKO-TEX 100)
Sleeve: Rescued cotton jersey - 95% cotton, 5% elastane (OEKO-TEX 100)
Yarn: Recycle yarn
Labels & washing label: origin Germany


Size and dimensions
Size 4:
For children 128-140 cm tall
Body length from shoulder point: 55cm
Sleeve length (neck cuff to wrist): 59 cm
Width: 39 cm
care instructions
The octopus sweater can be machine washed inside out at 30 degrees. It should not be tumble dried. Fabrics such as Nikki or velvets should not be ironed.
Shipping information
All of our octopus sweaters are sewn to order. We usually need 10-21 working days for this. If you need your octopulli sooner, please send us a message.
We strive to present all of our sweaters online as faithfully as possible and to give you all the information you need to make your purchasing decision. We are happy to accept returns due to damage or insufficient quality.
If you want to return the octopulli because you don't like the design, we ask that you bear the costs for the return shipping yourself.
Hauptstoff: 100% Bio-Baumwolle (elastisch gewebt)
Bündchen Stoff: 96 % Bio-Baumwolle, 4% Elasthan  
Garn: Polyester  
Labels & Waschetikett: Herkunft Deutschland   
Gewebt werden die Stoffe nach höchstem ökologischem und sozialem Standard. Der Motiv-Stoff wird in Deutschland mit Biofarben gefärbt.
Pflegehinweis
Der Oktopulli kann auf links bei 30 Grad in der Maschine gewaschen werden. Er sollte nicht im Trockner getrocknet werden. 
Um besonders ressourcenschonend zu arbeiten, werden alle unsere Oktopullis erst nach deiner eingegangenen Bestellung für dich genäht. Das dauert in der Regel 21-24 Werktage.
Solltest du deine Bestellung aus Gründen eher brauchen, schreibe uns gerne eine Mail.
Wichtig: Wir bemühen uns, alle unsere Pullis so originalgetreu wie möglich online darzustellen und dir alle Informationen zu geben, die du für deine Kaufentscheidung brauchst. Rücksendungen auf Grund von Beschädigung oder unzureichender Qualität übernehmen wir gerne.   
Solltest du den Oktopulli jedoch zurückgeben wollen, weil dir das Design nicht gefällt, bitten wir dich die Kosten für den Rückversand selbst zu tragen. 
---
Kostenloser Versand ab 150€
Über Uns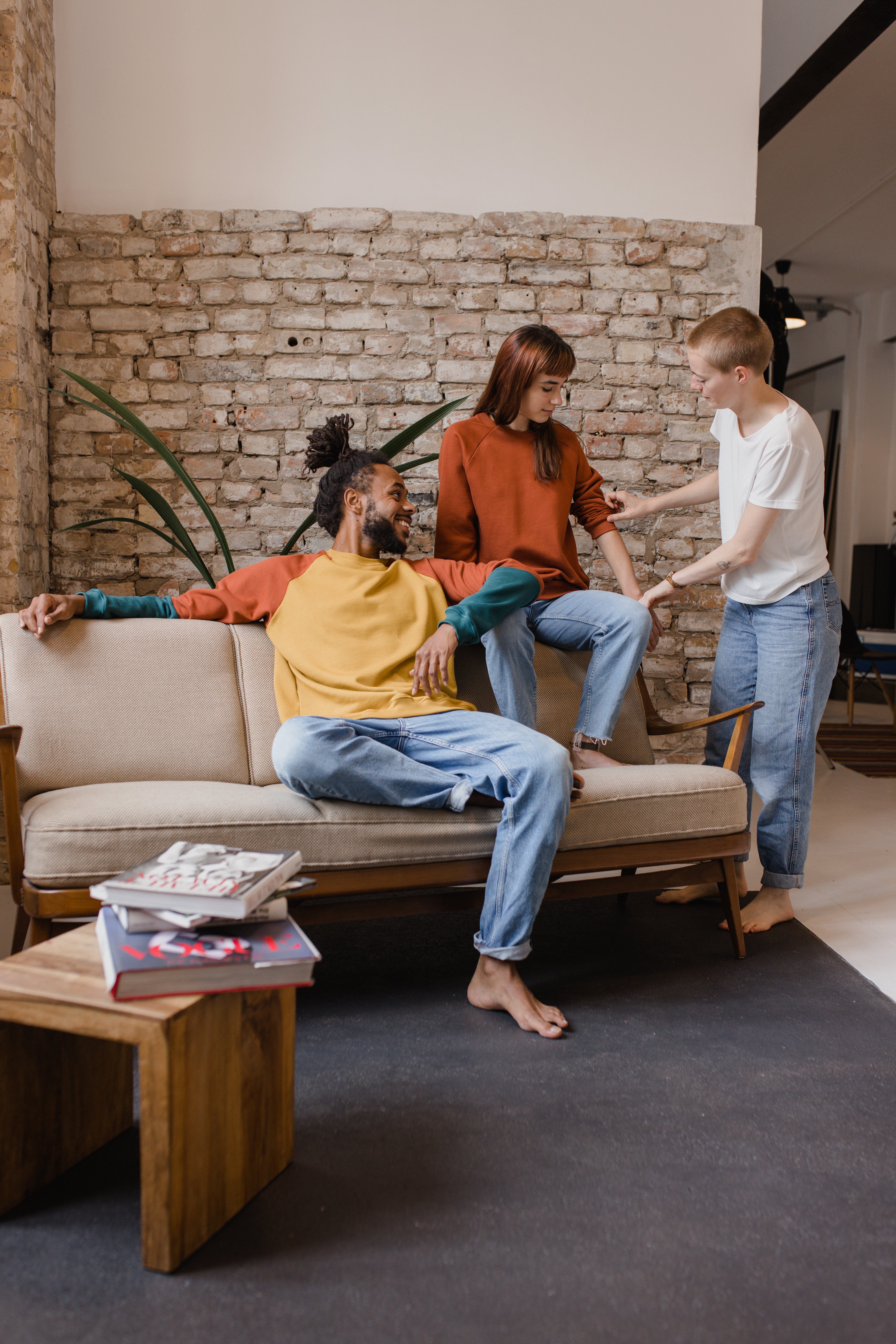 Erfahre mehr über unsere Arbeit!
FAQ
Wie pflege ich Baumwollkleidung richtig?
Wir empfehlen den Oktopulli auf links bei 30 Grad und maximal 800 Umdrehungen in der Maschine oder per Hand zu waschen. Er sollte nicht im Trockner getrocknet werden. Nach dem Trocknen kann der Pulli auf mittlerer Stufe gebügelt werden.
Woher kommen eure Stoffe?
Unsere Kidspullis: Unsere Kids-Pullover sind zum größten Teil aus Secondhand-, Rest- und Überschussware hergestellt. Wir möchten, so gut es geht das verwenden, was es bereits auf dieser Welt gibt. Dabei achten wir beim Einkauf der Stoffe natürlich auf Qualität.
Neu eingekaufte Stoffe: Die Stoffe, die wir neu dazukaufen, werden ausschließlich in Europa hergestellt, sind aus 100% Baumwolle (bio) und unterliegen dem höchsten ökologischen & sozialen Standard.
Wo stellt ihr eure Kleidung her?
Unsere Kleidung wird ausschließlich lokal in Berlin oder bei Kooperationswerkstätten in Deutschland gefertigt. Mit unserer Arbeit schaffen wir mehr Sichtbarkeit für das lokale Nähhandwerk und tragen dazu bei, das Handwerk zu erhalten. 
Kann ich meine Bestellung auch lokal abholen?
Klar! Unsere Werkstatt ist in Berlin Kreuzberg. Du kannst im Check Out später einfach die Option "lokale Abholung" wählen und sparst dir damit natürlich auch die Versandkosten.
Entdecke unsere praktischen Wendeshirts!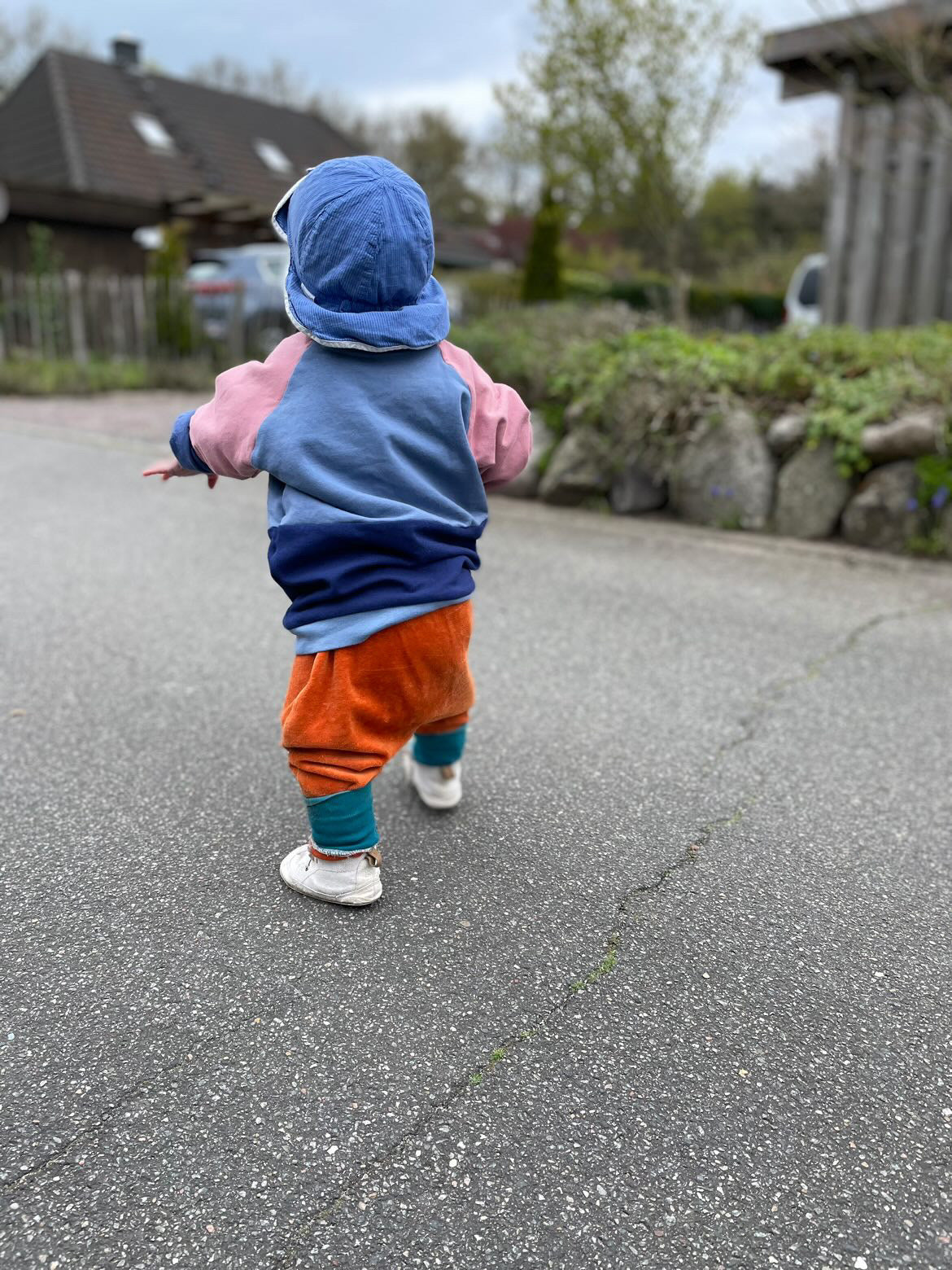 Schon über 2000 Kund:innen sind überzeugt!
---