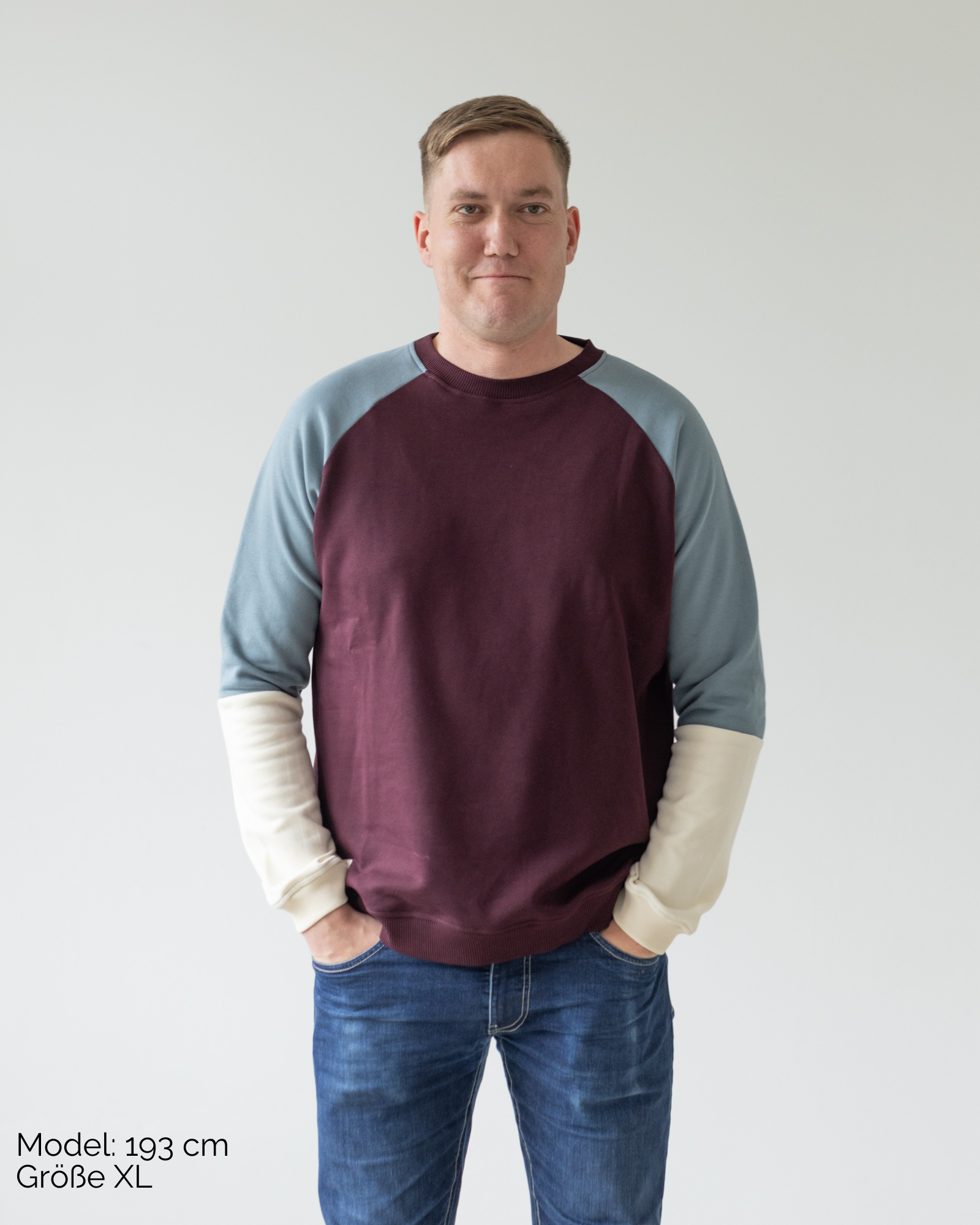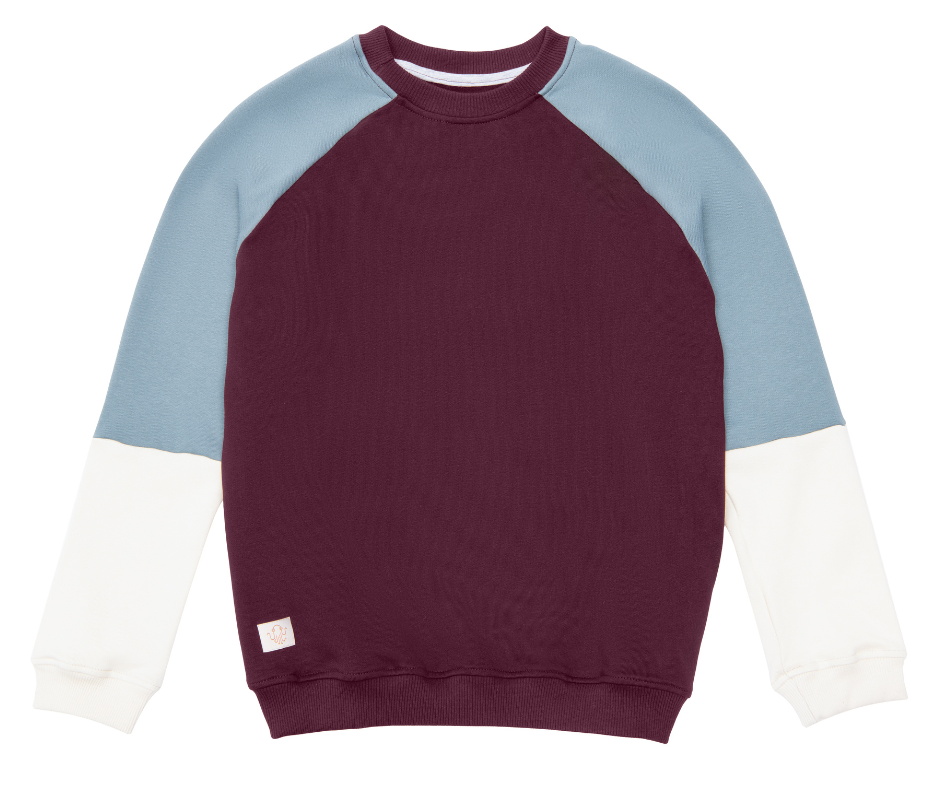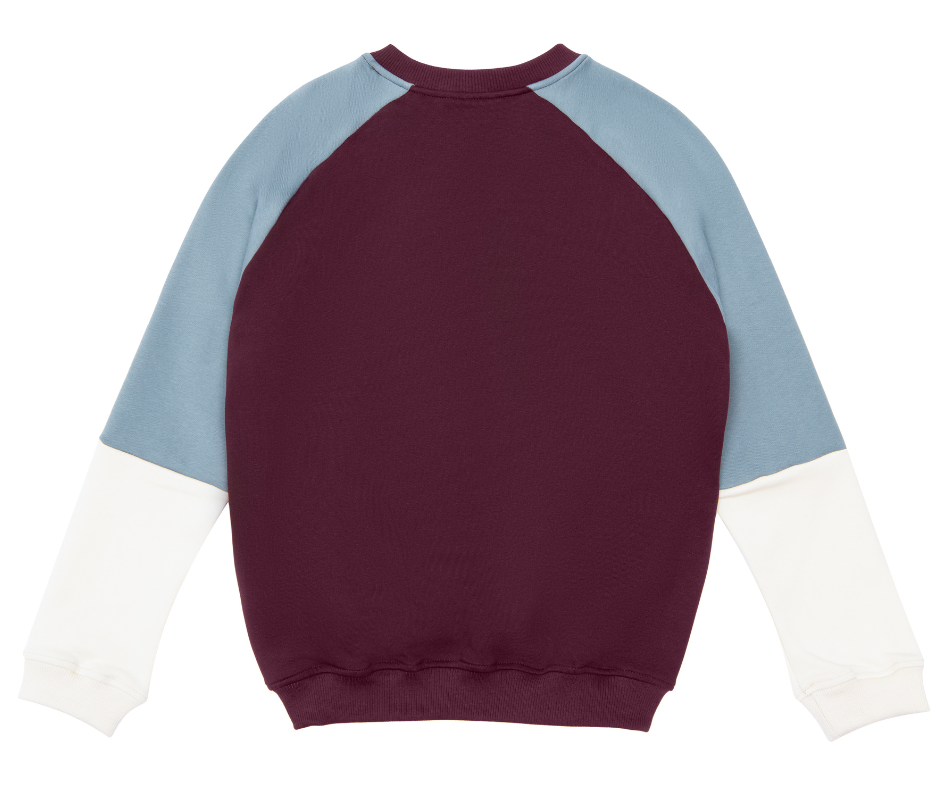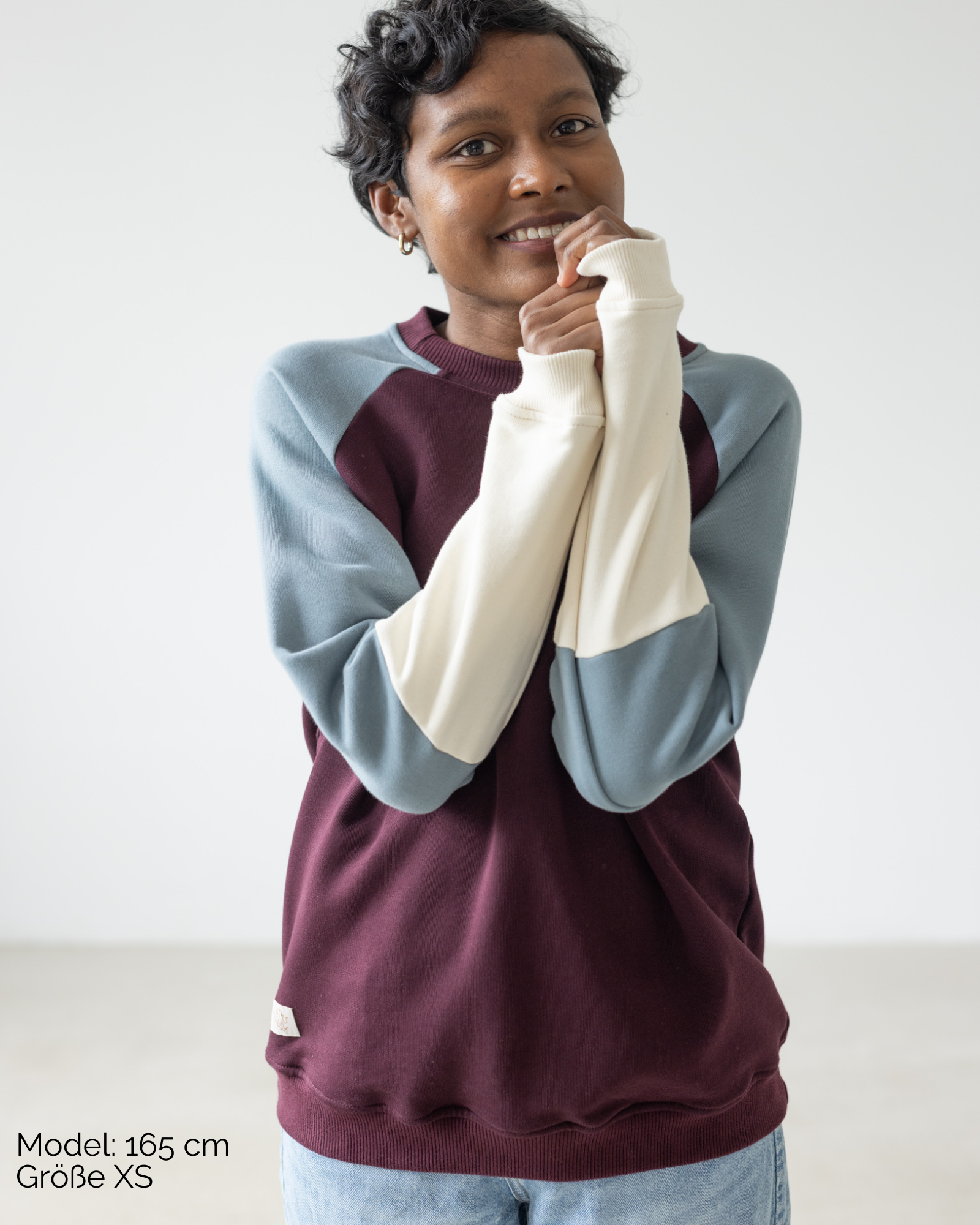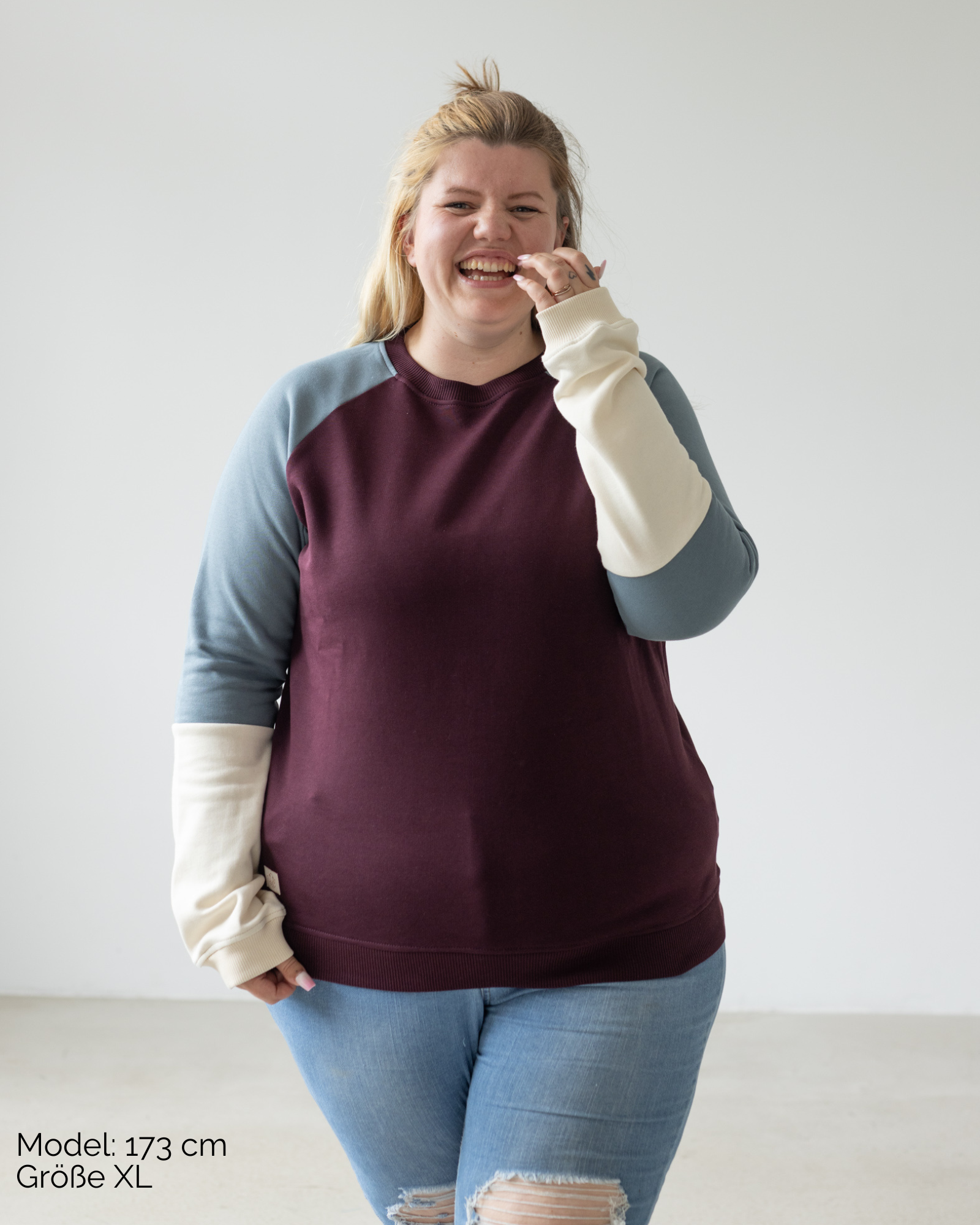 Unisex Sweater - Bio Pullover aus Kuschelsweat sportlich | Semmy
inkl. MwSt. zzgl. Versandkosten
Dieses Produkt wird in Deutschland gefertigt
We have solidarity prices! More on this in the main menu.
Description

Material

Shipment
Unisex Sweater 
Herstellung und Größen

Unsere Kleidung wird ausschließlich lokal in Berlin oder bei Kooperationswerkstätten in Deutschland gefertigt. Mit unserer Arbeit schaffen wir mehr Sichtbarkeit für das lokale Nähhandwerk und tragen dazu bei, das Handwerk zu erhalten. 
Werkstatt: Oktopulli Werkstatt | Kreuzberg
Passform und Maße (nach dem ersten Waschgang)
Der Oktopulli für Erwachsene ist ein Unisex-Modell. Durch seinen Raglanschnitt passt er sich perfekt der jeweiligen Körperform an. Überprüfe anhand der Größentabelle, welche Größe für dich die richtige ist. Die Angaben sind in Zentimeter angegeben und geben die Größe des Pullis nach dem ersten Waschgang (30 Grad bei max. 800 Umdrehungen / nicht im Trockner trocknen) an. Bio-Baumwolle ist ein Naturprodukt und reagiert auf verschiedene Wasserhärten und Temperaturen, bei Beachtung der Pflegehinweise läuft der Stoff daher bei den ersten Waschgängen bis zu 2cm in der Länge ein (nicht in der Breite). In der folgenden Tabelle findest du die Maße, wie sie nach dem ersten Waschgang sind. 
XXS (34):
Ab einer Körpergröße von 152cm
A: 50 cm
B: 58 cm
c: 66 cm 
XS (36):

A: 52 cm
B: 62 cm
C: 69 cm

S (36/38):

A: 56 cm
B: 64 cm
C: 71 cm

M (40):

A: 59 cm
B: 66 cm
C: 74 cm

L (42/44):

A: 62 cm
B: 71 cm
C: 77 cm

XL (46):

A: 64 cm
B: 73 cm
C: 77,5 cm
Wir arbeiten gerade noch an einer XXL.
Pflegehinweis 
Wir empfehlen den Oktopulli auf links bei 30 Grad und maximal 800 Umdrehungen in der Maschine oder per Hand zu waschen. Er sollte nicht im Trockner getrocknet werden. Nach dem Trocknen kann der Pulli auf mittlerer Stufe gebügelt werden.
Cuddle sweatshirt: 100% cotton (organic), 300 g/m²
Cuffs fabric: 97% cotton (organic), 3% elastane
Yarn: Polyester
Labels & washing label: Origin Germany
The fabrics we use are
made exclusively in Portugal and are subject to the highest
ecological & social standards.
You can find more information about the
value chain of the fabrics here.
In order to work particularly resource-efficiently, all of our octopus sweaters are only sewn for you after your order has been received. This usually takes 21-24 business days.
If you need your order earlier for reasons, please send us an email.
Important: We strive to present all of our sweaters online as faithfully as possible and to give you all the information you need to make your purchase decision. We are happy to accept returns due to damage or insufficient quality.
If you want to return the octopulli because you don't like the design, we ask that you bear the costs for the return shipping yourself.
---
FAQ
How do I properly care for cotton clothing?
We recommend washing the octopulli inside out at 30 degrees and a maximum of 800 revolutions in the machine or by hand. It should not be tumble dried. Once dry, the sweater can be ironed on a medium setting.
Where do your fabrics come from?
Our kids' sweaters: Our kids' sweaters are mostly made from second-hand, leftover and surplus goods. We want to use what already exists in this world as much as possible. Of course, we pay attention to quality when purchasing the fabrics.
Newly purchased fabrics: The fabrics that we buy new are made exclusively in Europe, are made of 100% cotton (organic) and are subject to the highest ecological and social standards.
Where do you make your clothes?
Our clothing is exclusively made locally in Berlin or in cooperation workshops in Germany. With our work we create more visibility for the local sewing craft and contribute to preserving the craft.
Can I also pick up my order locally?
Sure! Our workshop is in Berlin Kreuzberg. You can simply select the "local collection" option later in the check-out process and of course save yourself the shipping costs.
About Us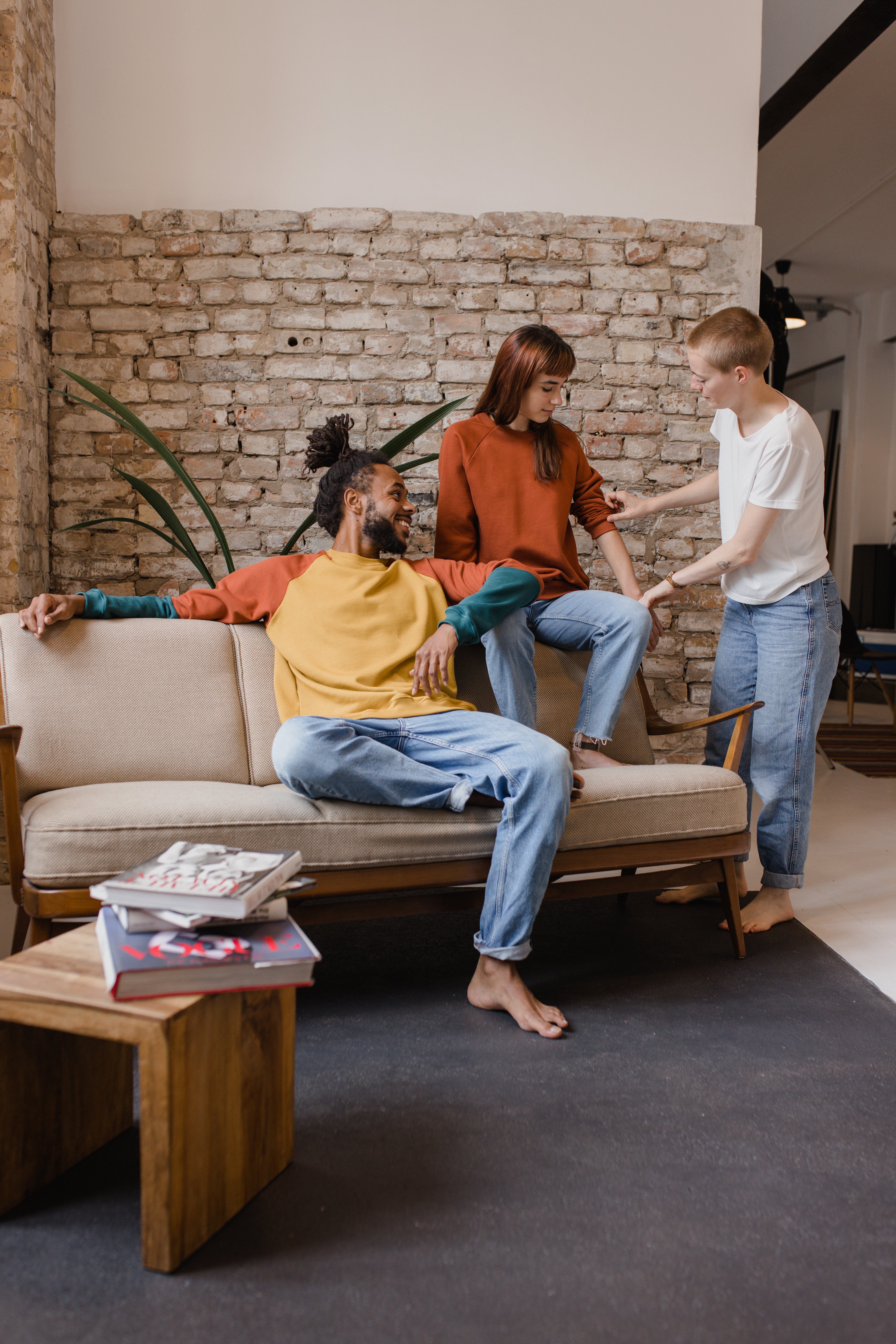 Learn more about our work!
How do we make our clothes? Who are the people behind Octopulli? We'll tell you all about it here.
Schon über 2000 Kund:innen sind überzeugt!
---